Event update
Our priority is the health and wellbeing of our communities and we urge everyone to follow the health advice currently available to stay safe and well.
At the direction of Australian Health Authorities, we can now confirm the postponement of Darkness to Daylight 2020 due to Coronavirus (COVID-19) concerns.
Postponed
Darkness to Daylight will now take place on October 21st –22nd at the Brisbane City Botanic Gardens. All purchased registrations for the May event will be honoured for the rescheduled October dates. Registrations will remain open during this time to allow participants to continue with their fundraising journeys.
A sincere thank you for the continued support for Darkness to Daylight and Australia's CEO Challenge. We look forward to seeing you in October to come together to show that the community cares, that we can make an impact that matters.
If you have any concerns or queries, please contact the team - eventcrew@aceoc.org.
The purpose of Darkness to Daylight is to run with a message that those affected are not alone, that our community cares, that we can all make a difference, that DFV has to end.
In 2020 Darkness to Daylight will take place on the 21st - 22nd October.
Participants can run the full 110km individually or take on the challenge as a team. Alternatively, there is a 10km and 3km run in the morning, giving people of every ability an opportunity to take part.
There are lot's of ways to get involved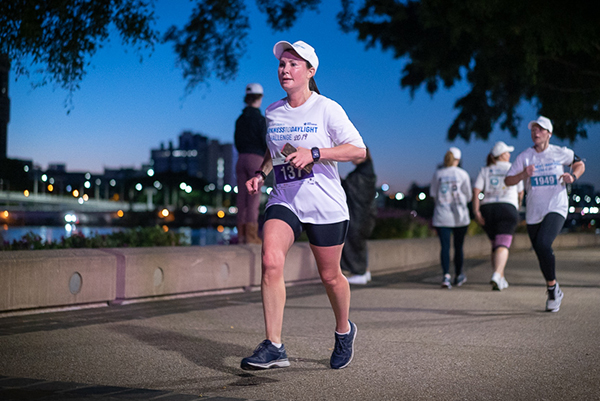 Individuals
Do you love ultra-marathons? Or are you more of a Sunday morning stroll by the river kind of person?
Either way, there's a way to get involved in the Darkness to Daylight Challenge with 110km, 10km and 3km options available.

Teams
A challenge of this size often requires a team effort, so why not gather your colleagues or group of friends and tackle the 110kms together?
It's a great way to have fun and bond as a team, but also start a conversation about domestic and family violence.
National
Not in Brisbane? Busy that day? Why not get involved in Darkness to Daylight National?
The aim is to complete 110km over the month of October, logging your progress from anywhere online.